With the support of local creatives, we want to help our Rescue Cat Cafe in Itabashi that has been financially troubled because of the pandemic!
Itabashi, a place of creativity and craftsmanship.
Our small cat cafe that is located here is in danger of closing due to the global pandemic and lockdowns that has reduced the number of visitors. Therefore, we launched a project with the support of local creatives to recruit more customers and bring the area back to life.
[Visit our crowdfunding site]
https://camp-fire.jp/projects/view/506370#
Introduction

A typical day in the rescue cat cafe
CAT'S INN TOKYO is a small rescue cat cafe recruiting adoptive parents for cats (and sometimes other animals) in the Itabashi ward of Tokyo. Focusing on this area, we rescue and protect stray cats and find them new families.
CAT'S INN TOKYO
3-4-17 Azusawa, Itabashi-ku, Tokyo 174-0051

The cats in the cafe have varied backgrounds. The most common are stray cats with kittens. Stray cats are often treated as pests here, often seen as causing trouble for society by creating conflicts between people when being fed. However, stray cats are a result of breeding and abandonment by humans. The cats are not at fault nor are they responsible for anything. There are also a lot of cats at our rescue cat cafe that have been abandoned by pet shops or other breeding facilities because of being born with disabilities. They don't make for a good "product" so are left with us. Other cats come from owners who are no longer physically able to take care of them because of old age, disease or death.
These cats are seen as clear symbols of weakness but this world, where us humans live together peacefully with cats, should be a world that doesn't treat the weak with cruelty and unfairness. Based on this belief, we founded CATS INN TOKYO in Itabashi in 2016, aiming for a world filled with love.
So far, we have been involved in the protection, care, foster and adoptive parent search, as well as TNR (Trapping stray cats, Neutering by performing sterilization, and Returning them to their original locations) for stray cats. Even if you can't own pets at the moment, when visiting our cafe you can easily interact with (and support!) our rescue cats.
Financial crisis because of the pandemic
Society changed drastically because of the new coronavirus in ways that no one could have predicted. CAT'S INN TOKYO, like many private businesses and restaurants, has been affected by this global pandemic
・ Decrease in the number of people leaving their homes and going out
・ Limitation on the number of visitors to the cafe to prevent infection and transmission
・ Increase in costs because of virus infection measures
・ As a result, we have had to rely more and more on receiving financial support from outside
Since CAT'S INN TOKYO does not operate as a restaurant, we did not receive the continuous compensation that restaurants did (drinks in the restaurant are self-service that can be provided without the need of a restaurant licence). In addition, since the business hours have been limited to 20:00 by the Act on Welfare and Protection of Animals (until 20:00 if there are kittens under 1 year old, and until 22:00 if there are only adult cats), we did not qualify for short-term business support from the government.
Almost all of the medical expenses, food charges, facility maintenance expenses, and utility expenses are covered by the support from customers and the sales in the shop
When we have to reduce the number of people visiting the shop, we lose sales by that amount, and we have to rely on other forms of outside support. In order to continue our activities to rescue and protect cats, we feel that urgent measures are needed to improve the sales in the store, rather than relying on unstable income from outside.
A place to connect cats without owners with people who want to live with cats
Between the opening in October 2016 and the end of September 2021, 207 cats were adopted and welcomed into new homes. If you include all the projects related to TNR, cats taken care of at the store, assistance in catching and protecting dogs, etc., the number of animals supported is around 300.
Conservation activities started in the wake of March 11th: the Great East Japan Earthquake
After the Great East Japan Earthquake, the search and protection of dogs and cats in the Fukushima Daiichi Nuclear Power Plant evacuation area was the start of everything. Victims of the earthquake were on the news, pleading for help finding their dog, who had been left on a leash in their backyard. I felt that I had to go and help the animals affected, so I went to Fukushima right away. Of course, there were many failed attempts and some regrets, and those regrets are the driving force of our present activities.


Through my activities so far, I am convinced that the store has a big role to play as a place to connect people who want to adopt cats with cats who do not have owners. I also feel that it helps not only the cats, but also the families that welcome them by making them smile and bringing them happiness.


People who are too busy to attend adoption events,  people who want to stop by multiple times to learn about the cats' personalities and if their compatible, or people who want to own a cat but have never touched or played with one; anyone is welcome to visit our rescue cat cafe and our staff is ready to answer any questions you have. Or you can just enjoy the cuteness of our cats hanging out and relaxing during the day.
A place for cats to live, designed "Cats First"
In the cafe, there are not only cages for sleeping, but also an overhead catwalk and enough space for cats to hide, such as secret cat tunnels and hidden cat toilets, creating a comfortable living environment for cats. These are very important facilities for cats living in the cafe because it allows them to keep distance between one another or from humans whenever they please. Cats can also escape to the staff room to "take a break from work" at any time.
A place of connection for people who cannot keep cats but want to support them
There are a lot of people who love cats but can't keep them for various reasons, including apartment restrictions or long and irregular work hours. At CAT'S INN TOKYO, our motto is "Help cats by playing with cats", so just hanging out with our cats at the cafe equals supporting their lives. Thinking of our customers, it would be ideal to create social significance by having people who love cats but can't own them, spend time with them and play with them in our cafe.
​​Giving hands-on workshops for families who want to own cats in the future.
In addition to free online seminars, we have held "Experience work for children" programs and "Taking care of cats" classes in the cafe (both for a fee). The former is for children who want to get an animal-related job when they grow up while the latter is a hands-on program for those who have never taken care of cats.
We believe that these kinds of developing activities can create adults who have compassion for the vulnerable and thus improve the environment for cats living in the area, and reduce the number of stray cats who will come to a sad end.
About the number and management of cats
In the cafe, between 10 and 12 cats are managed by a staff of 15 people including volunteers. In addition, isolation and medical treatment are carried out at the homes of volunteers and staff called "nursery schools" and cat hospitals after cats are first rescued. Overall, there are about 40 cats being cared for at any one time.
Measures against feline infectious diseases
Under the guidance of veterinarians and medical staff, we carry out the following steps to ensure cats' health.
★ After being rescued, cats are admitted to a veterinary clinic for a health check. The vets perform flea mite extermination, virus tests, stool tests, deworming, sterilization,  administer vaccines, and implant microchips, as well as any other tests or care that each individual cat might need. After that, each cat will live in isolation for about a month, and after basic medical care and becoming stable, they will be introduced to the cafe one by one.
★ Newborn kittens are fed and managed 24 hours a day in the staff room inside the store. Basic medical care is provided as they grow.
★ For injured and sick cats, priority is given for treatment, and after recovery of physical condition, necessary basic medical care is provided.
★ Medical records are created for each cat. We share recorded notes and recorded photos with everyone.
★ Regular stool tests and anthelmintic / flea mite repellents are administered to all animals.
★ The facility is constantly ventilated, and the floor, cat cages, structures, and equipment are thoroughly cleaned and disinfected daily. We also thoroughly support our customers by wearing socks, cleaning and disinfecting their fingers when they enter the store, wearing masks, and providing handkerchiefs.
Our goals for this project
(1) We want to paint and decorate the concrete fence outside the cat cafe with the help of local artists
We have been operating for 5 years without any noticeable shop sign because we have been trying to save money. As a result, even local residents are unaware our shop exists. The two simple wooden sandwich boards have fallen apart many times due to strong wind, and although they have been repaired repeatedly, they are in poor condition. We are also spending time on these kinds of repairs that would be better spent on looking after the cats.
There is a long-standing concrete wall from the Showa era at the entrance of the cafe. Store volunteers have painted the wall themselves to cover up the deterioration over the years, but from a safety standpoint, we have asked professionals to repair it properly, and we decided to make use of this space to create mural art. We would like to increase the number of customers by using it as a visually inviting sign while reinforcing it to make it safer. At the same time, we aim to improve public safety by making it an iconic presence that can be enjoyed by locals, such as those who come to Azusawa Park. We also hope it will be used as a meeting place or a photo spot.
Collaboration with CAT'S INN TOKYO graduate cat foster parents!
​​


"Ankoro Mochi," who was a beautiful and innocent girl
when she was in the shop, but is now an elegant lady♪
The mural art will be created by Kota Ito (@KIT_Oasis), an artist from Itabashi Ward. In fact, Mr. Ito is an adoptive parent who adopted a kitten named "Ankoro Mochi" from CAT'S INN TOKYO. In addition to CAT'S INN TOKYO's beloved cats, our supporter's cats will be incorporated into the mural painting as a return gift.
We want to improve the old concrete fence and cover it with colorful art and cat shapes all over, to create a new landmark for Shimurasakaue!  We hope for exposure on various social media platforms, and expect an increase in the number of people in the area as well as the number of visitors. We hope to never hear people say "I didn't know this cafe was here" or "I didn't know about the cafe" again!
② Create a safe and clean garden without any obstacles. We want to reform our shop entrance!
This is a photo of the entrance of the cafe. As you can see in the photo, the volunteer staff haven't been able to keep up with the maintenance, and the overgrown plants make it hard to see how the cafe looks. Not only is it difficult to expect visitors to come to the cafe from the street, but the dark impression is also a concern in terms of safety and security. Because of that reason, the landlord has installed a security camera.
We pruned trees, weeded plants, and laid plyboards to make it more accessible, but the walkway from the road is gravel and difficult to walk on, and the garden has many obstacles. As a result, the store is inaccessible for those with mobility issues or for people using wheelchairs or strollers. The plyboards get slippery when it rains, and so far many customers and staff have lost footing and fallen, which is, of course, extremely dangerous.
There is a local park and gymnasium in front of the cafe, and since it is a residential area where children often walk by, we aim to create a landscape with an open atmosphere so visitors will easily be able to come in, no matter the situation.
③ To cover the cats' medical expenses!

Medical expenses for cats, which add up to around ¥2 million a year, is one of the most important problems that CAT'S INN TOKYO faces. The cats in the cafe are cats without owners for various reasons. The cats taken in by the cafe will undergo various tests and necessary treatments at the hospital. Often they are old or injured cats, and if surgery, hospitalization, or chronic illness is required, constant treatment costs will be incurred.
Even healthy cats have regular stool tests, deworming, and flea & mite control. At the turn of the season, like humans, they catch colds and get sick, and even kittens can often suffer from a little diarrhea. These daily medical expenses will add up the greater the number of animals being cared for.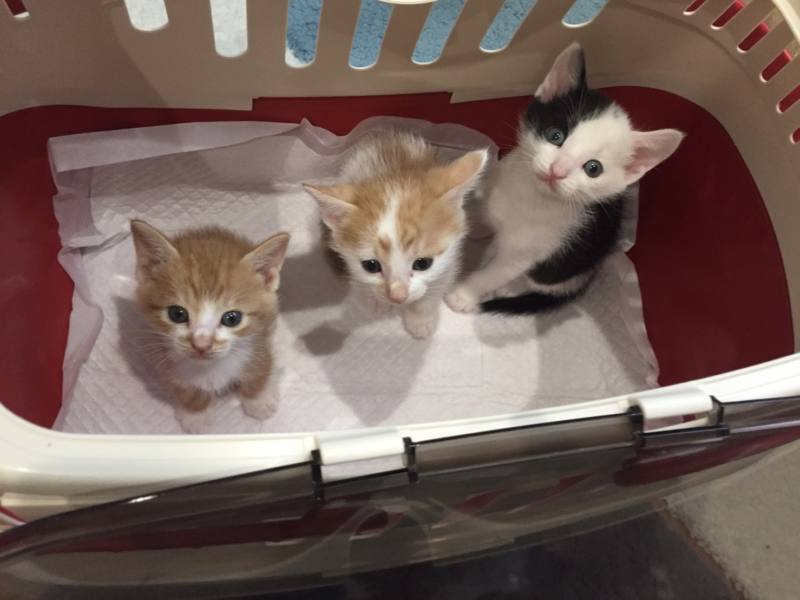 Chanosuke (4 years old) is a feline AIDS carrier who currently lives in the cafe because his previous owner couldn't provide the level of care he needed due to the corona pandemic and their own medical issues. The cafe was able to consult with the owner and take Chanosuke into our care. Because the owner didn't know how to properly take care of cats, Chanosuke went outside without having been castrated and got an infected injury after a cat fight. Chanosuke has low immunity and has frequent fevers, so he needs injections and infusions once or twice a week.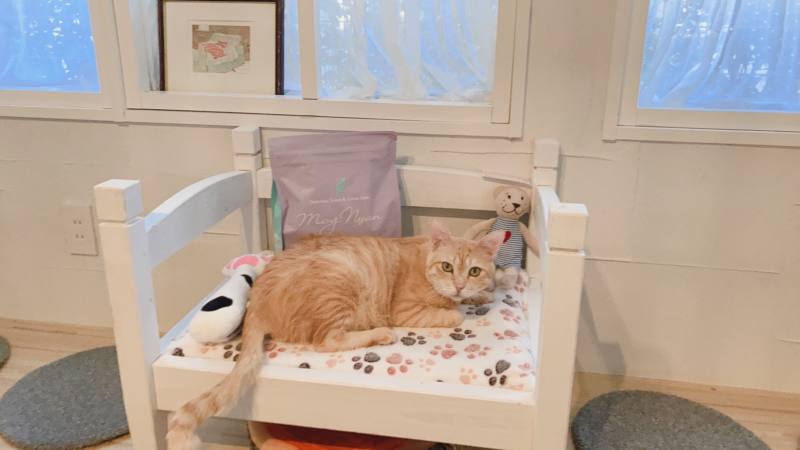 Sunny, who left the cafe two years ago with a well informed adoptive parent, was a cat abandoned by a pet shop due to a congenital liver vascular abnormality (portal shunt). We took her in at the cafe and she had to undergo major surgery. We received financial support of about 300,000 yen from our supporters at that time. Thanks to everyone's support, Sunny's liver has improved considerably, but unfortunately the postoperative seizures have left her legs paralyzed, and she is on continuous medication and rehabilitation. After the adoptive parent stepped forward, there was a surplus for support, but this was used for Sunny's MRI (medical expenses after leaving the cafe except the MRI have been paid by the adoptive parent).


In addition, sick cats need to be fed a therapeutic diet that suits their medical condition, which costs more than usual food. Under these circumstances, some of the funds collected in this crowdfunding project will be used for the medical expenses and care expenses of the cats.
Supporter's message

We have received messages from people who support our crowdfunding project!

Artist
Kumakura Tamami
I believe this is a place where you can live affluently.
CATS INN TOKYO is based in a local area and takes actions to help both its cats and people. They are an irreplaceable part of the Itabashi Ward community!
Home-roasted coffee
VIVA COFFEE
CATS INN TOKYO is an organization always walking the tightrope for cats, people, and the community in Itabashi Ward. For this wonderful source of light not to disappear
and to share the charms that Itabashi offers together,
let's spread the kindness of Itabashi's people with society!
VIVA ! Coffee & Love!!
VIVA ! Cats & Peace!!
VIVA ! from Itabashi !!

Itabashi Times
The amount of cats and people saved by CAT'S INN TOKYO can't be counted.
They can't be missed. Please keep on giving your best!

Itabashi Economic News
A place where you can let yourself get healed by the cuteness of cats, get energy from interacting with the people involved, and create a wonderful cycle of revitalizing the area.Let's keep on spicing up the area while alleviating it at the same time!
Takashimadaira Tourism Association (provisional)
There are many people who live in Takashimadaira and love cats but cannot keep them in their apartments. CATS INN TOKYO is a place where you can enjoy time with cats and help them find the home they deserve. We will do anything we can in order to protect this space!

Kawashima Paperware Crafts
We connected with CAT'S INN TOKYO through activities in Itabashi.
The love of the staff and the people who support them is poured
into the cats, which motivates them to protect the cats.
Even though with little effort I would like to offer my support.
How funds will be used
Target amount of 2,990,000 yen
Breakdown of expenses
-Cost of making the wall safe and creating the mural sign (wall repair and mural production cost): Approximately 600,000 yen
-A safer front entrance area, and landscaping that will also deter possible criminals: Approximately 950,000 yen
-Compensation for additional medical expenses for foster and adoptive families: Approximately 500,000 yen

-Reward product production cost that makes people who support you happy: Approximately 500,000 yen

-Crowdfunding page production cost: Approximately 200,000 yen

-Crowdfunding collection commission: Approximately 250,000 yen

* We will apply for and use the crowdfunding subsidy provided by the Itabashi Ward Industrial Promotion Corporation for the crowdfunding page production costs and fees.

Implementation schedule
Crowdfunding is scheduled to end in December 2021.
From January 2022, we will:

-Start the mural design with the portrait of the cat received from the adopters.
-Start landscaping, wall repair and mural painting.
-Ship rewards from January to February 2022.
This project's goal is to prioritize and at least cover landscaping of the front garden and reparations of the wall. We may start earlier than stated.
About recruitment method
This project will be implemented by the All-in method. Even if the target amount is not met, we will execute the plan and deliver rewards to supporters.
Rewards
Pictures of rewards will be released at any time (for the mural design, the design will be decided after this project is completed.)
2,222 yen:I just want to support this project! For this level, we will send you a thank-you email.
5,000 yen: T-shirt with mural illustrations designed by local creator Kota Ito (@KIT_Oasis)! + thank-you email!
8,000 yen: From "VIVA COFFEE," a coffee shop in Takashimadaira, Itabashi-ku! VIVA COFFEE carefully-selected coffee beans & mug set with this project's original design! + thank-you email! (This pledge includes a donation)

9,000 yen: Local creator Kota Ito's mural design T-shirt + a tote bag with the CATS INN TOKYO logo!

12,000 yen: VIVA COFFEE carefully-selected coffee + this project's original design mug +  set of lunch bags with the CATS INN TOKYO logo! (available in natural or light blue)
12,000 yen: 11 cat cafe coupons!

30,000 yen: T-shirt + 10 bags of coffee + 1 mug + thank-you email! (This pledge includes a donation)
50,000 yen: Kota Ito (@KIT_Oasis) cat characterization, digital data + print delivered in a frame! (This pledge includes a donation)
100,000 yen: Have your cat drawn on the mural! Character production + depiction on mural + 1 T-shirt with mural design ♪
1,000,000 yen: 1 T-shirt + 10 bags of coffee + 1 mug + cat cafe year pass + support money
*If surplus money is generated, we will use it for cat care and store operating costs.
[Please visit our crowdfunding site]
https://camp-fire.jp/projects/view/506370#
​​CAT'S INN TOKYO Support Committee
The creators of the local Itabashi Ward have united to promote this project.
CAT'S EYE PLANNING(Planning / project promotion)
A small business that undertakes writing, production coordination, and creation of cat properties in Itabashi Ward. Founder of CAT'S INN TOKYO and also a volunteer store manager. Main flag waver for this project
Kota Ito @KIT_Oasis (Mural painting and design)
Designer and illustrator based in Itabashi Ward. He is also a foster parent who welcomed a black cat called "Ankoro Mochi" from CAT'S INN TOKYO to his family.
Kawashima Paperware Crafts (Gift T-shirts and promotional activities)
Printing craftsmen in Itabashi Ward! In addition to the clothing print business, they also have a paper press business that has been running for 45 years.
VIVA COFFEE (Gift coffee and promotional activities)
"VIVA COFFEE" is a home-roasted coffee square that opened in Takashimadaira. In addition to selling high-quality home-roasted beans and offering coffee, this coffee shop lets you experience the new possibilities of coffee.
[First-class animal handling business sign]
Name of office: CAT 'S INN TOKYO
Office location: 3-4-17 Azusawa, Itabashi-ku, Tokyo
Type: Storage / Exhibition
Registration number: 18 Tokyo Metropolitan Government No. 0066239/18 Tokyo Metropolitan Exhibition No. 0066239
Registration date: July 31, 2019
Last day of validity period: July 30, 2024
Animal handling manager: Tomoko Ai